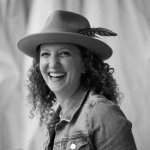 Maxine Orange
Inspired by fashion and nature, I love exploring the creative process & enjoy getting lost in the creation with textural layers and vibrant color combinations.
A given name like Maxine Orange is something to live up to. Originally from Montgomery, AL; Maxine has always loved making and creating. With a passion for painting, she feels lucky to have crafted a multifaceted career as an artist. Maxine lists her accomplishments as producing her own handbag line (one of a kind bags made from original paintings on canvas); working as a graphic designer for Quiksilver & Roxy retail stores; creating a give-back jewelry collection (States of Love) with one of her best friends; AND being an artist in an amazing place like Destin, Florida. Still exploring the creative journey, she is currently working with photographer Sean Murphy and enjoying success with the Abstract Bridal Portraits niche.
After receiving a BFA at the University of Alabama, Maxine enjoyed the experiences of life outside of the southeast, living and working in NYC and Southern California. Happy to be back in the south, calling Destin home along with husband, Neal & dog Bud.
Read more
Maxine Orange's Store
Filter