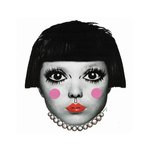 maysum
Maysum Biography She is the first lipstick sculptor in Asia. Besides that,she is also a creative, innovative make-up artist, a multimedia artist ,creative director of wahahafactory, illustrator , with more than 10-year experience in creative media field and working along fashion, photography, art direction, illustration, painting, video and printed materials. She has published a book,,and 2014 In the creation and make-up talent and achievements have received worldwide recognition and appreciation of the media, such as Japan , the world's leading blogger-style bubble, . She has accumulated lots of experience through collaborative works with various famous fashion and beauty brands including Disney, Shu Uemura, Chanel, Shisedio, Land Crawford, LCX, HR,7FAM,make up for ever, Leo diamond, Tuscan's Creations, Loreal, Vivienne Westwood(A Life in Fashion Exhibition),Apivita, vs sassoon .Fancl,YUBZ, 5CM, GROOVISIONS,le saunder ,Dove, Dior,, LUCKY BRAND JEANS, Land Crawford, Giffarine, Clinique , Just diamond,Harbout City, Catalog, Jollyshandy, APM, DTC, MegaBox, HKTB maysum joined Society6 on February 10, 2017
More
Maysum Biography
She is the first lipstick sculptor in Asia. Besides that,she is also a creative, innovative make-up artist, a multimedia artist ,creative director of wahahafactory, illustrator , with more than 10-year experience in creative media field and working along fashion, photography, art direction, illustration, painting, video and printed materials.
She has published a book,,and 2014
In the creation and make-up talent and achievements have received worldwide recognition and appreciation of the media, such as Japan , the world's leading blogger-style bubble, . She has accumulated lots of experience through collaborative works with various famous fashion and beauty brands including Disney, Shu Uemura, Chanel, Shisedio, Land Crawford, LCX, HR,7FAM,make up for ever, Leo diamond, Tuscan's Creations, Loreal, Vivienne Westwood(A Life in Fashion Exhibition),Apivita, vs sassoon .Fancl,YUBZ, 5CM, GROOVISIONS,le saunder ,Dove, Dior,, LUCKY BRAND JEANS, Land Crawford, Giffarine, Clinique , Just diamond,Harbout City, Catalog, Jollyshandy, APM, DTC, MegaBox, HKTB
maysum joined Society6 on February 10, 2017.