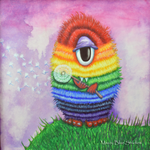 Mazzy Blue Studios
My artist journey began with growing up in the desert hills of New Mexico. Enchanted by my surroundings I developed a passionate love for art and anything creative. Encouraged to explore my passions I studied at the Institute of American Indian Arts, Santa Fe, NM. Upon graduation I received an internship with the Smithsonian's National Museum of the American Indian and while working there I was awarded a full scholarship to Lacoste School of the Arts in the south of France where I studied art & poetry. Shortly after I returned to the states I met and fell madly in love with my amazing husband Shane, we started a family and I continued to create & show my work under the studio name of Mazzy Blue Studios in honor of our daughter and my husbands favorite color. In the Fall of 2005, we suffered the tragic loss of our beautiful Daughter, Mazzy, for whom we first named my studio after. The studio was dark for the next years that followed. Then one day, I was asked to illustrate a book in my daughter's honor called "Nikita's Journey." The author even wrote in a character in Mazzy's memory. Through this process, I found a positive outlet for my emotions and some measure of healing...creating beautiful works in honor of my beautiful Daughter and touching the lives of others in a positive way...Mazzy is with me in each and every creation, her love and spirit will live on through my work and the charities we work with. I work primarily in acrylic, pen and ink, and watercolor along with some fiber arts and traditional bead work. I'm currently working on the illustration of childrens' books along with growing my portfolio of illustrations and paintings. I'm humbled to say that work has been collected both throughout the United States and abroad. And therefore, you can find my art in both public and private collections throughout the world. My work has been described as a "haunting exploration of emotion" and "culturally stimulating". When I'm not busy in the studio, I enjoy spending time with my husband, Shane, and our two rescue dogs, Amelia & Zoe. My supportive husband is the mastermind of all in-house printing, webmastery and all around tech guru for the studio!!! We find pleasure in working with charities by donating art and creating works to both benefit a given space and/or auction for a specific cause. So if you have one in mind please contact me. ♥ Please Join My Artistic Journey Facebook Fan Page http://www.facebook.com/MazzyBlueStudios Blog http://www.mazzyblue.com Twitter http://twitter.com/MazzyBlueStudio ~Cheers~ Selina xoxo Mazzy Blue Studios joined Society6 on September 23, 2013
More
My artist journey began with growing up in the desert hills of New Mexico. Enchanted by my surroundings I developed a passionate love for art and anything creative. Encouraged to explore my passions I studied at the Institute of American Indian Arts, Santa Fe, NM. Upon graduation I received an internship with the Smithsonian's National Museum of the American Indian and while working there I was awarded a full scholarship to Lacoste School of the Arts in the south of France where I studied art & poetry. Shortly after I returned to the states I met and fell madly in love with my amazing husband Shane, we started a family and I continued to create & show my work under the studio name of Mazzy Blue Studios in honor of our daughter and my husbands favorite color.
In the Fall of 2005, we suffered the tragic loss of our beautiful Daughter, Mazzy, for whom we first named my studio after. The studio was dark for the next years that followed. Then one day, I was asked to illustrate a book in my daughter's honor called "Nikita's Journey." The author even wrote in a character in Mazzy's memory. Through this process, I found a positive outlet for my emotions and some measure of healing...creating beautiful works in honor of my beautiful Daughter and touching the lives of others in a positive way...Mazzy is with me in each and every creation, her love and spirit will live on through my work and the charities we work with.
I work primarily in acrylic, pen and ink, and watercolor along with some fiber arts and traditional bead work. I'm currently working on the illustration of childrens' books along with growing my portfolio of illustrations and paintings.
I'm humbled to say that work has been collected both throughout the United States and abroad. And therefore, you can find my art in both public and private collections throughout the world.
My work has been described as a "haunting exploration of emotion" and "culturally stimulating".
When I'm not busy in the studio, I enjoy spending time with my husband, Shane, and our two rescue dogs, Amelia & Zoe. My supportive husband is the mastermind of all in-house printing, webmastery and all around tech guru for the studio!!! We find pleasure in working with charities by donating art and creating works to both benefit a given space and/or auction for a specific cause. So if you have one in mind please contact me.
♥ Please Join My Artistic Journey
Facebook Fan Page http://www.facebook.com/MazzyBlueStudios
Blog http://www.mazzyblue.com
Twitter http://twitter.com/MazzyBlueStudio
~Cheers~
Selina xoxo
Mazzy Blue Studios joined Society6 on September 23, 2013.