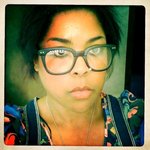 mcmerriweather
Hello.
My name is Melissa Merriweather,
I am a freelance artist and designer based in the Midwest, who's work combines photography, drawing and digital manipulation to create images that are
digitally transfers to paper, vinyl, and other mediums. My inspiration comes from politics, friends, and my home state, Michigian. I believe in offering a wide
variety of mounting materials and flat prints in various sizes.My love for the arts is inspired by such artist as:
Donald Judd, Degas, Warhol, Rauschenberg and Miklos Gaal.
Read more
mcmerriweather 's Store
Filter