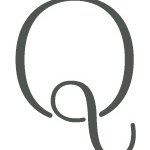 McQuade
A Philadelphian at heart, Mike McQuade relocated three years ago to Chicago, where he currently lives and works. He believes in working hard and being nice. Mike describes his graphic design and illustration method as a raw and always improving process. Mike finds inspiration in old books, hand lettering and everyday happenings. "I am obsessed with the processes of the many trades and crafts of visual communication–from the very basic and tactile like screen printing to the more complex and technological HTML and CSS." Mike believes very strongly in the importance of strong concept in design and says, "No matter how good the execution or style of a piece, it will always fall apart if the idea isn't there." Mike's work has been featured in Communication Arts, IdN, HOW, Print, One Show, Lurzer's Archive, We Love Typography, Site Inspire, Minimal Sites, Design Taxi, Smashing Magazine, and Lettering & Type. He has recently been awarded by One Show, Chicago Creative Club and Cannes. He loves talking to students and recent graduates, collaborating with other graphic designers, illustrators and artists and is always up for new projects. McQuade joined Society6 on September 2, 2011
More
A Philadelphian at heart, Mike McQuade relocated three years ago to Chicago, where he currently lives and works. He believes in working hard and being nice. Mike describes his graphic design and illustration method as a raw and always improving process. Mike finds inspiration in old books, hand lettering and everyday happenings. "I am obsessed with the processes of the many trades and crafts of visual communication–from the very basic and tactile like screen printing to the more complex and technological HTML and CSS." Mike believes very strongly in the importance of strong concept in design and says, "No matter how good the execution or style of a piece, it will always fall apart if the idea isn't there."
Mike's work has been featured in Communication Arts, IdN, HOW, Print, One Show, Lurzer's Archive, We Love Typography, Site Inspire, Minimal Sites, Design Taxi, Smashing Magazine, and Lettering & Type. He has recently been awarded by One Show, Chicago Creative Club and Cannes. He loves talking to students and recent graduates, collaborating with other graphic designers, illustrators and artists and is always up for new projects.
McQuade joined Society6 on September 2, 2011.
McQuade's Store
18 results
Filter