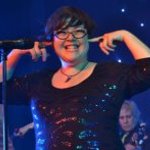 MCRLUCY
Hi I'm Lucy. Here's what I am: Mummy, Wife, Sister, Daughter, Photographer, Reviewer, Author, Avid Reader, Lead Female Vocalist (of a 14 piece Northern Soul/Tamla Motown Party band). I'm BAT S@!T CRAZY about music. There are probably many more pies that I can put my fingers in, but this will do for now! These are my photos; they are a HUGE part of me. Hope you enjoy! MCRLUCY joined Society6 on August 31, 2012
More
Hi I'm Lucy. Here's what I am: Mummy, Wife, Sister, Daughter, Photographer, Reviewer, Author, Avid Reader, Lead Female Vocalist (of a 14 piece Northern Soul/Tamla Motown Party band). I'm BAT S@!T CRAZY about music. There are probably many more pies that I can put my fingers in, but this will do for now!
These are my photos; they are a HUGE part of me. Hope you enjoy!
MCRLUCY joined Society6 on August 31, 2012.
MCRLUCY's Store
63 results
Filter