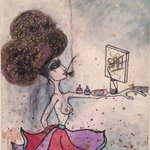 Meagan Harman
BIO Meagan Harman currently resides in Rapid City, South Dakota where she draws, inks, and watercolors the often naked lady onto a canvas. Her process relies heavily on staring forlornly at a blank canvas for an obscene amount of time. She's the mother of one kick ass kid.
ARTIST STATEMENT My artwork is created with mainly women in mind. I try to represent strength, beauty, and human emotion. I pull inspiration from myself and others' personal experiences.
​
I am a color fiend and throughout my artwork I make color the main event. I use a mix of oil based sharpies, ink, and watercolors to try and convey the meaning in a single art piece.
​
My current inspirations come from comics/graphic novels, the 90's, street art, Lisa Frank school supplies, surrealism, Adult Swim interludes, low brow art, and today's contemporary and fine art.
https://artistmeaganharman.wixsite.com/coocoocachoo
Read more
Meagan Harman's Store
Filter