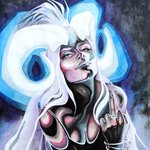 Megan Allard
Megan Allard is a Canadian artist currently living in Sydney, Australia. Working with the fluidity and unpredictability of water media plays a key role in her creative process, as it ensures the synthesis of chaos and order is always present in her works. To see updates on what's she's up to, check out her social media outlets: Facebook: www.facebook.com/meganallardart Instagram: @meganallardart Megan Allard joined Society6 on March 12, 2016
More
Megan Allard is a Canadian artist currently living in Sydney, Australia. Working with the fluidity and unpredictability of water media plays a key role in her creative process, as it ensures the synthesis of chaos and order is always present in her works.
To see updates on what's she's up to, check out her social media outlets:
Facebook: www.facebook.com/meganallardart Instagram: @meganallardart
Megan Allard joined Society6 on March 12, 2016.
Megan Allard's Store
21 results
Filter