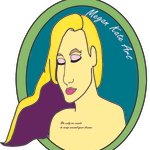 Megan Kate Art
Drawer, Painter and random doodle maker. Thank you for taking a look at my store, where you can buy signed prints and original artwork. visit my Facebook page (www.facebook.com/MeganKateArt) for further links. If you are interested in ordering a commission or any of my pieces in a larger size, please message me and we can discuss it. Have A lovely Day :) Megan Kate xx Megan Kate Art joined Society6 on February 12, 2014
More
Drawer, Painter and random doodle maker.
Thank you for taking a look at my store, where you can buy signed prints and original artwork.
visit my Facebook page (www.facebook.com/MeganKateArt) for further links.
If you are interested in ordering a commission or any of my pieces in a larger size, please message me and we can discuss it.
Have A lovely Day :)
Megan Kate xx
Megan Kate Art joined Society6 on February 12, 2014.