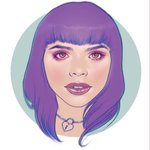 Megan Lara
Hey, I'm Megan. I'm a 28 year-old illustrator. I was raised on a farm that was mostly inhabited by cats instead of cows. I loved horses, though, and I always wanted one. When I was six, my parents told me I'd get a horse when I was eight. When I turned eight, they told me they'd get me a (fainting) goat when I was 10, instead. When I turned 10, they gave me a computer. Man, this baby was packing all of the raw power of a Pentium II. It wasn't long before tooling around in MS Paint and pixel art led to Paint Shop Pro, followed shortly by my first tablet and Photoshop Elements. There is still nothing I love more than drawing with my tablet. I have to say, though, a fainting goat would be pretty cool. Personality-wise, I'm a nerd who falls into several nerd classifications. I love Doctor Who, Battlestar Galactica & Firefly above all, but Dexter and Dr. Horrible rank pretty close, followed by Star Wars. Overall, I'm a huge book nerd, movie nerd, music nerd, video game nerd. I have an obsession with The Dark Tower by Stephen King, Harley Quinn from Batman and Starbuck. TL;DR: I'm a huge nerd who loves to draw. Website: http://www.meganlara.com T-Shirts: http://www.redbubble.com/people/meganlara & http://www.levelupstudios.com Facebook: http://www.facebook.com/mLARAart Twitter: http://twitter.com/mLARAart Tumblr: http://meganlara.tumblr.com/ Megan Lara joined Society6 on February 28, 2011
More
Hey, I'm Megan. I'm a 28 year-old illustrator. I was raised on a farm that was mostly inhabited by cats instead of cows. I loved horses, though, and I always wanted one. When I was six, my parents told me I'd get a horse when I was eight. When I turned eight, they told me they'd get me a (fainting) goat when I was 10, instead. When I turned 10, they gave me a computer. Man, this baby was packing all of the raw power of a Pentium II. It wasn't long before tooling around in MS Paint and pixel art led to Paint Shop Pro, followed shortly by my first tablet and Photoshop Elements. There is still nothing I love more than drawing with my tablet. I have to say, though, a fainting goat would be pretty cool.
Personality-wise, I'm a nerd who falls into several nerd classifications. I love Doctor Who, Battlestar Galactica & Firefly above all, but Dexter and Dr. Horrible rank pretty close, followed by Star Wars. Overall, I'm a huge book nerd, movie nerd, music nerd, video game nerd. I have an obsession with The Dark Tower by Stephen King, Harley Quinn from Batman and Starbuck.
TL;DR: I'm a huge nerd who loves to draw.
Website: http://www.meganlara.com
T-Shirts: http://www.redbubble.com/people/meganlara & http://www.levelupstudios.com
Facebook: http://www.facebook.com/mLARAart
Twitter: http://twitter.com/mLARAart
Tumblr: http://meganlara.tumblr.com/
Megan Lara joined Society6 on February 28, 2011.