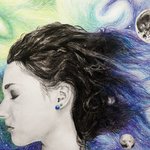 Megan Rivera
My art is largely inspired by nature--animals, flowers, landscapes. It is largely surreal, and I love to include little details and vibrant colors. I mainly use colored pencils and watercolor in my illustrations. Digital manipulation is used in my photography. Portfolio: http://meganmrivera.weebly.com/ Megan Rivera joined Society6 on July 7, 2016
More
My art is largely inspired by nature--animals, flowers, landscapes. It is largely surreal, and I love to include little details and vibrant colors. I mainly use colored pencils and watercolor in my illustrations. Digital manipulation is used in my photography.
Portfolio: http://meganmrivera.weebly.com/
Megan Rivera joined Society6 on July 7, 2016.