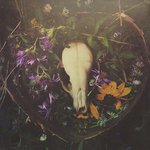 Aconite Tisane
Hi my name is Meghan. I enjoy misty forests and a cup of Green tea. I'm always trying to find something to fill the existential longing for Home through Nature. I make music sometimes with Crown of Asteria and Cruithni. I create artwork that invokes the intrinsic connection with the Earth and her fauna. I value the deep reverence when we find when we are among primordial trees and the language only they speak. https://crownofasteria.bandcamp.com https://cruithni.bandcamp.com https://www.facebook.com/CrownofAsteria/ Aconite Tisane joined Society6 on February 11, 2016
More
Hi my name is Meghan. I enjoy misty forests and a cup of Green tea. I'm always trying to find something to fill the existential longing for Home through Nature. I make music sometimes with Crown of Asteria and Cruithni. I create artwork that invokes the intrinsic connection with the Earth and her fauna. I value the deep reverence when we find when we are among primordial trees and the language only they speak.
https://crownofasteria.bandcamp.com https://cruithni.bandcamp.com https://www.facebook.com/CrownofAsteria/
Aconite Tisane joined Society6 on February 11, 2016.