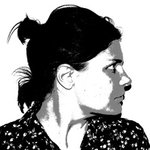 Megan Spencer
I have been doing art since I was six years old. It is my passion and the hot chocolate I drink every morning ( since I'm Mormon) to get me started, awake and alive. I enjoy mixed media painting the most and making things that are inspiring. I grew up on the island of Saipan, which gave me a love for bright colors. Then I moved to Arizona where it isn't so colorful, but managed anyway with the different (desert) kind of beauty. My parents always loved art and they passed that love to me. I have a wonderful and supportive husband and two incredible little boys. They are the most wonderful little joys in my life! Megan Spencer joined Society6 on July 12, 2013
More
I have been doing art since I was six years old. It is my passion and the hot chocolate I drink every morning ( since I'm Mormon) to get me started, awake and alive. I enjoy mixed media painting the most and making things that are inspiring.
I grew up on the island of Saipan, which gave me a love for bright colors. Then I moved to Arizona where it isn't so colorful, but managed anyway with the different (desert) kind of beauty. My parents always loved art and they passed that love to me.
I have a wonderful and supportive husband and two incredible little boys. They are the most wonderful little joys in my life!
Megan Spencer joined Society6 on July 12, 2013.