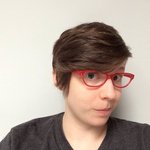 Megtopus Rock
For my day job, I'm a science illustrator. You can see my professional work at meghanrocktopus.com. I rarely go a day without doing something creative, from knitting or sewing to tending bonsai to painting and drawing. I'm a midwest native with saltwater running through my veins–I am and always will be an enormous marine biology enthusiast. This is reflected in much of the fine art I am driven to create. If I can't be around the physical ocean, at least I can be around it visually. Megtopus Rock joined Society6 on May 16, 2015
More
For my day job, I'm a science illustrator. You can see my professional work at meghanrocktopus.com. I rarely go a day without doing something creative, from knitting or sewing to tending bonsai to painting and drawing.
I'm a midwest native with saltwater running through my veins–I am and always will be an enormous marine biology enthusiast. This is reflected in much of the fine art I am driven to create. If I can't be around the physical ocean, at least I can be around it visually.
Megtopus Rock joined Society6 on May 16, 2015.
Megtopus Rock's Store
48 results
Filter