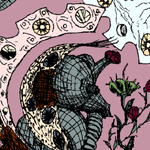 Melancholic Futurist
I draw mainly visions of melancholy and existential horror with some recurring motives that became a part of me in over two decades of drawing. I set my profits for most of my prints to 50+% of the price. So, buying my prints is a good way of supporting me as an artist. My facebook page: https://www.facebook.com/pages/Melancholia-Studio/452139338297580 Melancholic Futurist joined Society6 on May 11, 2015
More
I draw mainly visions of melancholy and existential horror with some recurring motives that became a part of me in over two decades of drawing. I set my profits for most of my prints to 50+% of the price. So, buying my prints is a good way of supporting me as an artist.
My facebook page: https://www.facebook.com/pages/Melancholia-Studio/452139338297580
Melancholic Futurist joined Society6 on May 11, 2015.
Popular by Melancholic Futurist
18 results
Filter