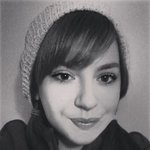 Melanie Bell
My name is Melanie Bell, and creative expression is my mission in life. Growing up in Baltimore, MD, I started painting and writing music at the age of nine, then spent most of my teenage life studying theater and designing production sets. Today, my primary work is digital media: Brand development and creative direction. In the last few years I've taken my skills and combined my knowledge into branding & marketing startup businesses all over the east coast. I love what I do and I am inspired everyday to create something unique that speaks on many levels without words. Creating with passion, originality and diversity. Melanie Bell joined Society6 on September 12, 2016
More
My name is Melanie Bell, and creative expression is my mission in life.
Growing up in Baltimore, MD, I started painting and writing music at the age of nine, then spent most of my teenage life studying theater and designing production sets. Today, my primary work is digital media: Brand development and creative direction. In the last few years I've taken my skills and combined my knowledge into branding & marketing startup businesses all over the east coast. I love what I do and I am inspired everyday to create something unique that speaks on many levels without words. Creating with passion, originality and diversity.
Melanie Bell joined Society6 on September 12, 2016.