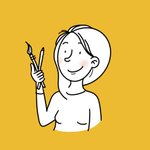 melanieguertler
Hey there! My name is Melanie Gürtler and I am an German illustrator and designer.
My work typically incorporates watercolor florals, abstract forms and cute characters.
My inspiration comes from being a mom, doing yoga and meditation and listen to nature. With my illustrations I want to make your heart laugh.
///
Portfolio: www.melanie-guertler.de
Instagram: melanieguertler
Contact: guertler.melanie@gmail.com
Read more
melanieguertler's Store
Filter