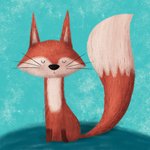 Mel Armstrong
I love drawing! If I don't have a sketchbook with me I panic. It's an addiction that started a couple of years ago after trying to find some fabric for my son. I couldn't find what I wanted so decided to design my own and then somehow fell into a new career illustrating and pattern designing.
In 2016 I won the Make it in Design scholarship (2016) and signed up with art agent Advocate Art. I love working both traditionally and digitally and my illustrations have appeared on baby products, shoes, greeting cards, journals, fabric, stationary and phone covers.
I love creating designs for kids, which are mostly inspired by the imagination of my own kids, but I also like to draw from nature…birds & flowers are never boring! My mind is a juggle of design ideas. I love bright, bold colours that will put a smile on your face and I like to break the rules!
Thank you for visiting my shop. I hope you find some inspiration from my inspiration.
Web: https://melarmstrongdesign.com Instagram: http://instagram.com/melarmstrongdesign Facebook: https://www.facebook.com/melarmstrongdesign Pinterest: https://www.pinterest.com/MelsDesignBoard/%E2%80%8E Twitter: https://twitter.com/MelJArmstrong
Read more
Prints by Mel Armstrong
20 results
Filter