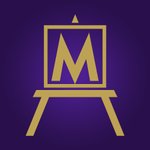 Melek Art & Design
Artist, designer, INTJ. You can find me at the intersection of creative and analytical. As a fine artist building on a foundation of graphic design, I seek to explore the world around me and portray the whimsical, the surreal and the unusual in a structured process that incorporates design principles as diverse as Gestalt theory and as ancient as the golden ratio. Working primarily in the digital format, my works often explore contrasting ideas, ideologies and concepts, combining concrete, abstract, metaphorical and surreal concepts. My style, taste and philosophy is as eclectic as the world we live in and its many sources of inspiration, from the freestyle wail and snap of smooth jazz to the geometric precision of ancient Arabic motifs. about.me/intjdesigner facebook.com/melekart Melek Art & Design joined Society6 on May 15, 2012
More
Artist, designer, INTJ. You can find me at the intersection of creative and analytical.
As a fine artist building on a foundation of graphic design, I seek to explore the world around me and portray the whimsical, the surreal and the unusual in a structured process that incorporates design principles as diverse as Gestalt theory and as ancient as the golden ratio. Working primarily in the digital format, my works often explore contrasting ideas, ideologies and concepts, combining concrete, abstract, metaphorical and surreal concepts.
My style, taste and philosophy is as eclectic as the world we live in and its many sources of inspiration, from the freestyle wail and snap of smooth jazz to the geometric precision of ancient Arabic motifs.
about.me/intjdesigner facebook.com/melekart
Melek Art & Design joined Society6 on May 15, 2012.