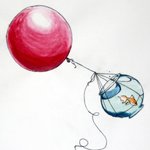 Mel Gaber
I am a freelance digital and traditional artist. My main areas of interest are illustration and conceptual art, and through my work I try to bridge the gap between the worlds inside and outside of the mind. My work often incorporates elements of dreams, nightmares, and fantasy, while maintaining a touch of realism. The common thread in all of my art is my desire to portray the real world through the lens of individual perception. I studied at Clarke University in Dubuque, Iowa; earning a Bachelor of Fine Arts in Painting and a Bachelor of Arts in Philosophy. My study of philosophy has strongly influenced my artistic choices, with some of my more conceptual series, most notably The Other, finding their roots entirely in philosophic works that I have found particularly compelling. My illustrations tend to be more whimsical, focusing on innocent or fantastical subject matter, but always with some sort of twist on the subject. I've drawn inspiration from a number of sources, ranging from the illustrations of Edmund Dulac for Hans Christian Andersen's fairy tales to the Ukiyo-e prints of Hiroshige and Hokusai. Mel Gaber joined Society6 on May 22, 2014
More
I am a freelance digital and traditional artist. My main areas of interest are illustration and conceptual art, and through my work I try to bridge the gap between the worlds inside and outside of the mind. My work often incorporates elements of dreams, nightmares, and fantasy, while maintaining a touch of realism. The common thread in all of my art is my desire to portray the real world through the lens of individual perception.
I studied at Clarke University in Dubuque, Iowa; earning a Bachelor of Fine Arts in Painting and a Bachelor of Arts in Philosophy. My study of philosophy has strongly influenced my artistic choices, with some of my more conceptual series, most notably The Other, finding their roots entirely in philosophic works that I have found particularly compelling.
My illustrations tend to be more whimsical, focusing on innocent or fantastical subject matter, but always with some sort of twist on the subject. I've drawn inspiration from a number of sources, ranging from the illustrations of Edmund Dulac for Hans Christian Andersen's fairy tales to the Ukiyo-e prints of Hiroshige and Hokusai.
Mel Gaber joined Society6 on May 22, 2014.