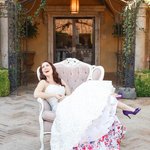 Melia Metikos
About Melia Metikos
Capturing the beauty of the world through my travels, one photo at a time...sometimes after wandering off and getting lost, or left behind. Sometimes by climbing fences and things that I'm probably not supposed to climb. Sometimes by just being in the right place at the right time. Some are a little dark and grainy, some are light and bright- but that's on purpose. I don't always want perfect. I want real. I hope you enjoy looking at them as much as I do taking them.
IMPORTANT: Please note that the pictures have NOT been altered in any way, shape, or form unless noted below. My goal is to capture the world exactly as I see it through the camera lens. I believe it's important to uphold the integrity of the world without having to manipulate anything. It is a beautiful place, after all.
Picture Title:
-Iceland
-The Essence of Elegance
-In the City of Salt
-Newark
-Greensboro
-Winter
-Lake Zurich
-Hanging High
-War Stories
- The Temple
- A Thai Palace
- On Edge
- Cloud Gate
- Suzzallo
- Orange Crush
- Doubled B&W
- Hogsmeade
Melia Metikos joined Society6 on December 9, 2011.