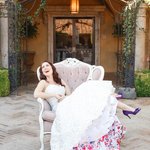 Melia Metikos
Capturing the beauty of the world through my travels, one photo at a time...sometimes after wandering off and getting lost, or left behind. Sometimes by climbing fences and things that I'm probably not supposed to climb. Sometimes by just being in the right place at the right time. Some are a little dark and grainy, some are light and bright, but that's on purpose. I don't always want perfect. I want real. IMPORTANT: Please note that the majority of my pictures have NOT been altered in any way, shape, or form unless noted below. My goal is to capture the world exactly as I see it through the camera lens. At times, I do like to make a few edits to help with lighting, but all those pictures that have been altered are listed below. Picture Title: -Iceland -The Essence of Elegance -In the City of Salt -Newark -Greensboro -Winter -Lake Zurich -Hanging High -War Stories - The Temple - A Thai Palace - On Edge - Cloud Gate - Suzzallo - Orange Crush - Doubled B&W - Hogsmeade - Gringotts - Ever After - On and On and - Ghost Town Melia Metikos joined Society6 on December 9, 2011
More
Capturing the beauty of the world through my travels, one photo at a time...sometimes after wandering off and getting lost, or left behind. Sometimes by climbing fences and things that I'm probably not supposed to climb. Sometimes by just being in the right place at the right time. Some are a little dark and grainy, some are light and bright, but that's on purpose. I don't always want perfect. I want real.
IMPORTANT: Please note that the majority of my pictures have NOT been altered in any way, shape, or form unless noted below. My goal is to capture the world exactly as I see it through the camera lens. At times, I do like to make a few edits to help with lighting, but all those pictures that have been altered are listed below.
Picture Title: -Iceland -The Essence of Elegance -In the City of Salt -Newark -Greensboro -Winter -Lake Zurich -Hanging High -War Stories
The Temple
A Thai Palace
On Edge
Cloud Gate
Suzzallo
Orange Crush
Doubled B&W
Hogsmeade
Gringotts
Ever After
On and On and
Ghost Town
Melia Metikos joined Society6 on December 9, 2011.
Metal Prints by Melia Metikos
179 results
Filter