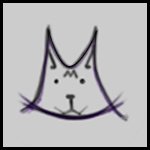 Meli Amused
I am an aspiring archaeologist who enjoys graphic design and art in my spare time. My society6 page serves as a way for me to continue to dabble in graphic arts while I pursue my career goals and further my education. I enjoy photography, landscapes, webdesign, typography, knitting, and cats. Meli Amused joined Society6 on June 3, 2016
More
I am an aspiring archaeologist who enjoys graphic design and art in my spare time.
My society6 page serves as a way for me to continue to dabble in graphic arts while I pursue my career goals and further my education. I enjoy photography, landscapes, webdesign, typography, knitting, and cats.
Meli Amused joined Society6 on June 3, 2016.