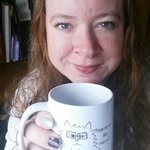 Melinda Todd - Mel's Doodle Designs
Melinda Todd is the artist behind Mel's Doodle Designs at melindatodd.com. She creates fun and simple illustrations. Custom pieces can be created, just go to her site and contact her for pricing. Not aiming for perfect; aiming for better. Http://melindatodd.com Http://instagram.com/melsdoodledesigns Melinda Todd - Mel's Doodle Designs joined Society6 on March 30, 2017
More
Melinda Todd is the artist behind Mel's Doodle Designs at melindatodd.com. She creates fun and simple illustrations. Custom pieces can be created, just go to her site and contact her for pricing. Not aiming for perfect; aiming for better.
Http://melindatodd.com Http://instagram.com/melsdoodledesigns
Melinda Todd - Mel's Doodle Designs joined Society6 on March 30, 2017.
Apparel by Melinda Todd - Mel's Doodle Designs
153 results
Filter