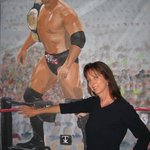 MelissaJBarrett
Melissa has been enjoying working as a mural artist in Oregon and Washington since 2001 as Melissa Barrett Paint Design. She continues to enjoy painting murals and is excited to be making some of her murals, other art and photographs available online through Society6. May you be blessed! Visit her website at: www.mbpaintdesign.com. LIKE on Facebook at: https://www.facebook.com/MelissaBarrettPaintDesign MelissaJBarrett joined Society6 on January 15, 2016
More
Melissa has been enjoying working as a mural artist in Oregon and Washington since 2001 as Melissa Barrett Paint Design. She continues to enjoy painting murals and is excited to be making some of her murals, other art and photographs available online through Society6. May you be blessed!
Visit her website at: www.mbpaintdesign.com.
LIKE on Facebook at: https://www.facebook.com/MelissaBarrettPaintDesign
MelissaJBarrett joined Society6 on January 15, 2016.