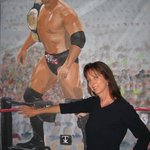 MelissaJBarrett
Thank you for checking out my Society6 store! I am so grateful and honored! Please accept my sincere gratitude for your purchases and supporting all the wonderful artists here! You are awesome! I love being an artist. My mind is always turning over new ideas. Creating is what makes me feel alive. I live in the beautiful state of Oregon and paint murals in Oregon and Washington, traveling further for special commissions. Painting rooms for individuals, families, and businesses is always a great joy and I'm so happy to be able to offer some of those images as well as many other new original works of art and graphic designs here at Society6. Besides murals on walls, I work in acrylic, oils, watercolors, textiles, graphic arts and photography. I tend to love painting nature themes and also love adding the appearance of texture and dimension in my art. Thanks for your support! Many blessings to you. Here is a link for more information: bouncesite.com/MelissaJBarrett See current work and like me on Facebook and please feel free to post photos of you and what you purchased at: https://www. facebook.com/MelissaBarrettPaintDesign/ LIKE on Facebook at: https://www.facebook.com/MelissaBarrettPaintDesign MelissaJBarrett joined Society6 on January 15, 2016
More
Thank you for checking out my Society6 store! I am so grateful and honored! Please accept my sincere gratitude for your purchases and supporting all the wonderful artists here! You are awesome!
I love being an artist. My mind is always turning over new ideas. Creating is what makes me feel alive. I live in the beautiful state of Oregon and paint murals in Oregon and Washington, traveling further for special commissions. Painting rooms for individuals, families, and businesses is always a great joy and I'm so happy to be able to offer some of those images as well as many other new original works of art and graphic designs here at Society6. Besides murals on walls, I work in acrylic, oils, watercolors, textiles, graphic arts and photography. I tend to love painting nature themes and also love adding the appearance of texture and dimension in my art. Thanks for your support! Many blessings to you.
Here is a link for more information: bouncesite.com/MelissaJBarrett
See current work and like me on Facebook and please feel free to post photos of you and what you purchased at: https://www. facebook.com/MelissaBarrettPaintDesign/
LIKE on Facebook at: https://www.facebook.com/MelissaBarrettPaintDesign
MelissaJBarrett joined Society6 on January 15, 2016.