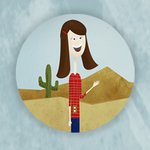 Melissa Olson
icatchfoxes is the creative pseudonym of Melissa S. Olson: Designer, Illustrator, Photographer and Writer.
I grew up in Northeast Ohio and have a passion for the midwest. I've been lucky enough to live in different parts of the country and am able to recognize the commonalties between different communities. I'm a strong believer in the ability for good design to create better opportunities, stronger communities and better informed citizens.
I am currently based out of Akron, Ohio working with clients across the country.
I'm currently represented by Hide & Seek Gallery for all fine art ventures, and continue to create personal artwork, as I feel it keeps my professional work fresh. In my free time I enjoy cycling, playing guitar and traveling.
Available for freelance, events & commission in all parts of the world.
Read more
Melissa Olson's Store
Filter