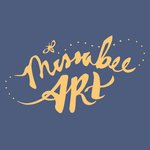 Melissa Lee Shaw
I've been drawing for as long as I can remember, and it's all I've ever really wanted to do. I started teaching myself how to draw digitally in 2010 when I got my first tablet, and since then I've had a growing fascination with the digital art world. It's pretty rad. I graduated from California State University of Sacramento with a BA in Studio Art and a focus in the Electronic Arts. I'm currently super into making repeating patterns and would like to maybe someday get paid for them. Heh. Being a tattoo artist would also be cool. Follow me at missabeeart.tumblr.com or @missabeeart on Instagram Website: missabeeart.com Melissa Lee Shaw joined Society6 on October 4, 2013
More
I've been drawing for as long as I can remember, and it's all I've ever really wanted to do. I started teaching myself how to draw digitally in 2010 when I got my first tablet, and since then I've had a growing fascination with the digital art world. It's pretty rad.
I graduated from California State University of Sacramento with a BA in Studio Art and a focus in the Electronic Arts. I'm currently super into making repeating patterns and would like to maybe someday get paid for them. Heh.
Being a tattoo artist would also be cool.
Follow me at missabeeart.tumblr.com or @missabeeart on Instagram
Website: missabeeart.com
Melissa Lee Shaw joined Society6 on October 4, 2013.