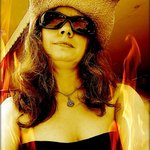 Melody Kittles
Art Creationist is not the title of a business I own. It's what I do. I like to work with so many different artistic media ranging from textiles, to mixed media, to all kinds of paints and inks and pencils, to music, to poetry and lyrics, and…the list goes on! I get random ideas inspired by things I observe around me and confining it all to one genre is impossible. Most of the items I'll be sharing here are going to be paintings, mixed media artworks, and drawings, as well as a bit of photography. If you like what I share, by all means, please spread a little love around by sharing the links and supporting a hobbyist's habit. I'm a wife and mother who works part time at a small costume and embroidery shop. It would add greatly to my happiness if I could one day focus entirely on creating things to support my family. Thanks for stopping by and for your support of small businesses and local artists and artisans everywhere! If you are interested in charity, then you may like to know that 10% of my earnings will go to three different types charities in rotation: a local women's and children's shelter, a local church fund for low-income families that enables their children to participate in fun camps, and small charities which help homeless veterans and work to fight the rising number of veteran suicides. Melody Kittles joined Society6 on July 14, 2015
More
Art Creationist is not the title of a business I own. It's what I do. I like to work with so many different artistic media ranging from textiles, to mixed media, to all kinds of paints and inks and pencils, to music, to poetry and lyrics, and…the list goes on! I get random ideas inspired by things I observe around me and confining it all to one genre is impossible. Most of the items I'll be sharing here are going to be paintings, mixed media artworks, and drawings, as well as a bit of photography. If you like what I share, by all means, please spread a little love around by sharing the links and supporting a hobbyist's habit. I'm a wife and mother who works part time at a small costume and embroidery shop. It would add greatly to my happiness if I could one day focus entirely on creating things to support my family. Thanks for stopping by and for your support of small businesses and local artists and artisans everywhere!
If you are interested in charity, then you may like to know that 10% of my earnings will go to three different types charities in rotation: a local women's and children's shelter, a local church fund for low-income families that enables their children to participate in fun camps, and small charities which help homeless veterans and work to fight the rising number of veteran suicides.
Melody Kittles joined Society6 on July 14, 2015.