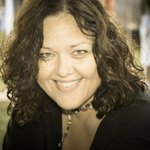 melodywatson
Hi there! What I want to share here is that I'm a confident creative who is daunted and humbled in the face of the incredible artistry available on this site. I see a million things that I don't yet have the skills to even attempt. Still, giving up is not how we learn. And learning is everything. Well, learning and love. And tirimisu. But learning's up there. Brand new to Society6, I haven't followed the rules that say "create a coherent body of work" and I don't know how long it will take before I begin to take that declaration seriously. Or if I ever will at all. Because there's little that's coherent about the creative pieces that move through my brain. Sometimes I just have to get them out to see what happens. And from day to day, different muses seem to visit me and they all want a little something different. So I listen to them and just see what comes. Here are a few of the pieces that have come together when I'm dancing with my muses. I have so much gratitude for the other artists putting your incredible work out here. Not only are all these delicious Society6 products available here, but you're inspiring people around the world. Including me. For a peek at some of the completely different sides of my world, there's http://www.melodywatson.com melodywatson joined Society6 on August 8, 2016
More
Hi there! What I want to share here is that I'm a confident creative who is daunted and humbled in the face of the incredible artistry available on this site. I see a million things that I don't yet have the skills to even attempt. Still, giving up is not how we learn. And learning is everything. Well, learning and love. And tirimisu. But learning's up there.
Brand new to Society6, I haven't followed the rules that say "create a coherent body of work" and I don't know how long it will take before I begin to take that declaration seriously. Or if I ever will at all. Because there's little that's coherent about the creative pieces that move through my brain. Sometimes I just have to get them out to see what happens. And from day to day, different muses seem to visit me and they all want a little something different. So I listen to them and just see what comes. Here are a few of the pieces that have come together when I'm dancing with my muses.
I have so much gratitude for the other artists putting your incredible work out here. Not only are all these delicious Society6 products available here, but you're inspiring people around the world. Including me.
For a peek at some of the completely different sides of my world, there's http://www.melodywatson.com
melodywatson joined Society6 on August 8, 2016.