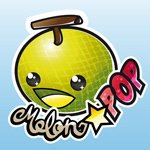 Melon☆POP
Hello there, our dear melon-lovers! We are Melon☆POP and is really 'slice' to meetcha! Please, take a look and make our lovely pet Peppo happy by buying one of our prints 。◕‿◕。 He'll be very tasteful! Thank you! Melon☆POP / What a JUICY art! Melon☆POP joined Society6 on October 26, 2014
More
Hello there, our dear melon-lovers!
We are Melon☆POP and is really 'slice' to meetcha! Please, take a look and make our lovely pet Peppo happy by buying one of our prints 。◕‿◕。 He'll be very tasteful!
Thank you!
Melon☆POP
/ What a JUICY art!
Melon☆POP joined Society6 on October 26, 2014.