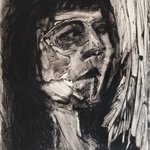 Mel Roy
I am a figurative and portrait artist and I live and work in Edinburgh, Scotland. I like to work from life whenever possible and also from other references, be it print, film or photographic, these as a departure point rather than a definitive source. Portraiture and life drawing has always been of primary interest, and I have always been fascinated by politics. I am particularly interested in Scottish politicians and the direction Scotland and her people are moving in following devolution and beyond. I also like dogs very much. You can visit my website http://www.melroyart.com/ to see more about me and my work. Mel Roy joined Society6 on August 4, 2014
More
I am a figurative and portrait artist and I live and work in Edinburgh, Scotland.
I like to work from life whenever possible and also from other references, be it print, film or photographic, these as a departure point rather than a definitive source.
Portraiture and life drawing has always been of primary interest, and I have always been fascinated by politics. I am particularly interested in Scottish politicians and the direction Scotland and her people are moving in following devolution and beyond.
I also like dogs very much.
You can visit my website http://www.melroyart.com/ to see more about me and my work.
Mel Roy joined Society6 on August 4, 2014.
Mel Roy's Store
10 results
Filter