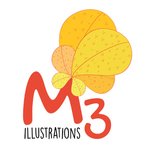 Meluzina Art
My name is Melisa, but I prefer Meli and maybe you've seen I sign as Meluzina. I'm an illustrator and graphic and textile designer. I LOVE to doodle, annoy cats with excessive love and drink coffee. Cliche: I draw since I can remember. Swear it's true. I took my time to find my passion because you never see what's in front of you. It's OK, though, I'm here now. My portfolio http://meluzina.com/ My blog http://meluzinathinks.tumblr.com/ Meluzina Art joined Society6 on May 8, 2016
More
My name is Melisa, but I prefer Meli and maybe you've seen I sign as Meluzina. I'm an illustrator and graphic and textile designer.
I LOVE to doodle, annoy cats with excessive love and drink coffee.
Cliche: I draw since I can remember. Swear it's true.
I took my time to find my passion because you never see what's in front of you. It's OK, though, I'm here now.
My portfolio http://meluzina.com/ My blog http://meluzinathinks.tumblr.com/
Meluzina Art joined Society6 on May 8, 2016.