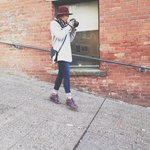 Memories by Marisa
Hi! My name is Marisa, and I am a photographer. I love to travel and capture moments that I will be able to have forever. It's a photographers dream to share what we see so I hope you enjoy my online store! Home to me is when i'm on the road traveling; It's my happy place. I hope that you can take a little piece of that with you in your purchase. Cheers! Marisa Memories by Marisa joined Society6 on December 7, 2015
More
Hi!
My name is Marisa, and I am a photographer. I love to travel and capture moments that I will be able to have forever. It's a photographers dream to share what we see so I hope you enjoy my online store!
Home to me is when i'm on the road traveling; It's my happy place. I hope that you can take a little piece of that with you in your purchase.
Cheers! Marisa
Memories by Marisa joined Society6 on December 7, 2015.