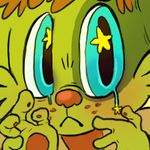 Emmy
Memory Box is a webcomic about an anxious little dog with a dream of living on the moon with her partner, a smart aleck cat. Booger Dog and Kipt Cat are suddenly evicted from their apartment leaving behind what Booger thinks is the last of their dope. They travel to a nearby empty island with only an abandoned psych ward centering it with a crooked out of place streetlight. They awaken a force in the basement through the injection of heroin and face a character they never thought they would encounter in their lives. Booger Dog must make a drastic life style change if she wants to save her partner from a satanic curse. Follow her as she encounters demons of all sorts to reverse the curse, uses the memory box to remind Kipt of his true heart, and mature into who she is destined to be. Emmy joined Society6 on February 2, 2015
More
Memory Box is a webcomic about an anxious little dog with a dream of living on the moon with her partner, a smart aleck cat.
Booger Dog and Kipt Cat are suddenly evicted from their apartment leaving behind what Booger thinks is the last of their dope. They travel to a nearby empty island with only an abandoned psych ward centering it with a crooked out of place streetlight. They awaken a force in the basement through the injection of heroin and face a character they never thought they would encounter in their lives. Booger Dog must make a drastic life style change if she wants to save her partner from a satanic curse. Follow her as she encounters demons of all sorts to reverse the curse, uses the memory box to remind Kipt of his true heart, and mature into who she is destined to be.
Emmy joined Society6 on February 2, 2015.