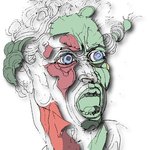 MENAGU'
I am currently doing my graduate degree. Please excuse my absence and when posssible (so busy right now I barely have the time for anything else !) I will be back to post new stuff and visit some of your fine works as well of course :) Best regards to everybody ! Thank you all for your patience !! I love Society 6, always !!! MENAGU' joined Society6 on January 13, 2012
More
I am currently doing my graduate degree. Please excuse my absence and when posssible (so busy right now I barely have the time for anything else !) I will be back to post new stuff and visit some of your fine works as well of course :)
Best regards to everybody ! Thank you all for your patience !! I love Society 6, always !!!
MENAGU' joined Society6 on January 13, 2012.
Tshirts by MENAGU'
22 results
Filter