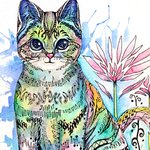 meomeo
Hi all! Thank you for visiting my page! I am a Canada based fine art artist and face painter, whose favorite medium is watercolor. Hope you enjoy my work! Please feel free to talk to me or ask me anything. My Facebook page: https://www.facebook.com/meotor/ meomeo joined Society6 on January 11, 2014
More
Hi all! Thank you for visiting my page! I am a Canada based fine art artist and face painter, whose favorite medium is watercolor. Hope you enjoy my work! Please feel free to talk to me or ask me anything.
My Facebook page: https://www.facebook.com/meotor/
meomeo joined Society6 on January 11, 2014.
Bedding by meomeo
65 results
Filter
Department

Dept

Pillows & Bedding