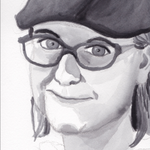 Meredith Moles
Meredith Moles is a visual artist interested in perception, space, and location.
Meredith's current work features urban sketches in watercolor and ink, and paintings in gouache and casein. Her stairway series follows the tradition of David Hockney in exploring how to express the perceived, four-dimensional environment on a two-dimensional surface. Much of her work explores the joys of life in the San Francisco Bay Area, with its hills, parks, coffee shops, breweries, and quirky/charming/gritty/fascinating neighborhoods. A sense of playfulness and fun runs through her work.
You can find her online at meredithmoles.com.
Read more
Meredith Moles's Store
Filter