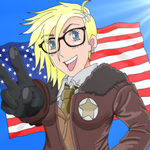 merimeaux
Artist. Foodie. Otaku. I live in Indy but left my heart in Tokyo. 七ころび八おき! ★ As seen on TeeFury, RIPT Apparel, Qwertee, Shirt.Woot, The Yetee, ShirtPunch, Once Upon a Tee, and NeatoShop!
My offerings on society6 only represent a small portion of my work. For my complete portfolio, please find me on Redbubble: http://www.redbubble.com/people/merimeaux
Like me… www.facebook.com/merimeaux
Follow me… www.twitter.com/merimeaux http://merimeaux.tumblr.com www.instagram.com/merimeaux
Bookmark me… www.merimeaux.com http://www.meauxtaku.com www.teepublic.com/user/merimeaux www.neatoshop.com/artist/merimeaux www.redbubble.com/people/merimeaux
I'm now a Shirt.Woot artist! Check out shirt.woot.com for exclusive tees you won't find anywhere else: http://shirt.woot.com/catalog?q=%40merimeaux
Don't forget to bookmark meauxtaku☆モタク, my new Japanese culture blog! I have some fun giveaways planned, so visit often: www.meauxtaku.com
So how do you pronounce "merimeaux," anyway? Well, all the French words (or faux French words) I know, I learned in Japan...so it's pronounced メリモ :D
All works copyright of merimeaux © 2014-2016. All rights reserved.
Read more