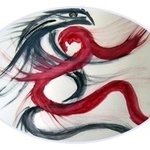 merva
My artistic development: 1979: art school for four years in , Switzerland 1983: two years as an illustrator at an advertising agency 1986: my own airbrush and painting studio in Zurig 1998: to 2003, journeys to many different places all over the world 2003: returning to Switzerland 2007: comeback to my painting art work, mainly concentrating on intuitive spiritual painting because of a lot of life experience with my friends and my opponents my special thanks to all these people! There is one earth, many realities, lots of different truths but there is only one universal reality.. in there lies the secret of contentment! To describe a picture appers to me as if I'd deprive the viewer of his indepent relationship to my works. Therefore there will hardly be any captions to my works, just occasionally my thoughts about it. If a picture doesn't communicate, it might not have been made for that particular viewer. Merva merva joined Society6 on January 22, 2015
More
My artistic development: 1979: art school for four years in , Switzerland 1983: two years as an illustrator at an advertising agency 1986: my own airbrush and painting studio in Zurig 1998: to 2003, journeys to many different places all over the world 2003: returning to Switzerland 2007: comeback to my painting art work, mainly concentrating on intuitive spiritual painting because of a lot of life experience with my friends and my opponents my special thanks to all these people!
There is one earth, many realities, lots of different truths but there is only one universal reality.. in there lies the secret of contentment! To describe a picture appers to me as if I'd deprive the viewer of his indepent relationship to my works. Therefore there will hardly be any captions to my works, just occasionally my thoughts about it. If a picture doesn't communicate, it might not have been made for that particular viewer. Merva
merva joined Society6 on January 22, 2015.
merva's Store
41 results
Filter