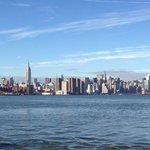 metalforest
metalforest :: (define):: a large cluster of industrial buildings, New York City; Inspired by the city + trees + matters of the heart, the Yin+Yang of me. -- Metalforest describes both an external and internal reflection; it parallels the strength and vulnerability of an often misrepresented city with the discovery of self within the complexities of the mind, body, & soul. — A forest of metal buildings, the city is colorful & alive just as nature, both beautiful & inspiring in its own way. -- instagram.com/metalforest_ metalforest joined Society6 on April 29, 2016
More
metalforest :: (define):: a large cluster of industrial buildings, New York City;
Inspired by the city + trees + matters of the heart, the Yin+Yang of me.
-- Metalforest describes both an external and internal reflection; it parallels the strength and vulnerability of an often misrepresented city with the discovery of self within the complexities of the mind, body, & soul. —
A forest of metal buildings, the city is colorful & alive just as nature, both beautiful & inspiring in its own way.
--
instagram.com/metalforest_
metalforest joined Society6 on April 29, 2016.