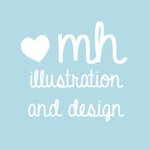 Maddy Howarth
Hello There! I'm Maddy Howarth a freelance Illustrator and Designer from Derbyshire, England. If you would like to work with me or have any questions please email me on: mhartanddesign@gmail.com I'd love to hear from you! ♥ For more Illustration prints/framed prints, please visit my store here: http://mhartanddesign.bigcartel.com/ ♥ For stickers, visit my Red Bubble store here: coming soon! ♥ To see work in progress, sketches and updates on what I am doing next, visit my tumblr blog here: http://mhartanddesign.tumblr.com/ ♥ To see details about special offers and what I am up to, visit my facebook page: https://www.facebook.com/MhArtAndDesign XOXO Maddy Howarth joined Society6 on August 1, 2012
More
Hello There! I'm Maddy Howarth a freelance Illustrator and Designer from Derbyshire, England. If you would like to work with me or have any questions please email me on: mhartanddesign@gmail.com I'd love to hear from you!
♥ For more Illustration prints/framed prints, please visit my store here: http://mhartanddesign.bigcartel.com/
♥ For stickers, visit my Red Bubble store here: coming soon!
♥ To see work in progress, sketches and updates on what I am doing next, visit my tumblr blog here: http://mhartanddesign.tumblr.com/
♥ To see details about special offers and what I am up to, visit my facebook page: https://www.facebook.com/MhArtAndDesign
XOXO
Maddy Howarth joined Society6 on August 1, 2012.