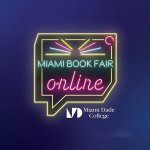 MiamiBookFair
Miami Book Fair has been fostering literary culture since 1984, providing unique experiences and platforms that reflect a diverse and representative group of voices. Spanning genres, gender identities, and generations, our year-round programming and mission to engage the community, promote reading, and support writers is embodied in our annual eight-day Book Fair, happening this year in the virtual space.
Streaming November 15 – 22 | MiamiBookFairOnline.com
The 2020 MBF commemorative poster – designed by award-winning children's book author and illustrator Dan Santat, creator of the Disney animated series "The Replacements" – is available in seven different Book Fair swag pieces.
Facebook: facebook.com/MiamiBookFair Instagram: @miamibookfair Twitter: @MiamiBookFair
Read more
MiamiBookFair's Store
Filter