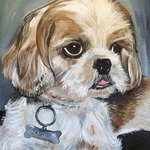 Mia Silverwoman
www.miapaintsfaces.com Hi there. I'm Mia. I'm 25 but I've been painting since I was ickle. I currently work as an Art Director at an advertising agency in London, but I also paint portraits of people & pets using acrylic. If you'd like to have a portrait done of your family, friends, pets, as a gift or in memory of someone, please don't hesitate to contact me :) All I need is a selection of photographs of your chosen lovely faces and I'll quote a lovely price. Thank you for having a look at my page! Mia Silverwoman joined Society6 on November 23, 2014
More
www.miapaintsfaces.com
Hi there. I'm Mia. I'm 25 but I've been painting since I was ickle.
I currently work as an Art Director at an advertising agency in London, but I also paint portraits of people & pets using acrylic.
If you'd like to have a portrait done of your family, friends, pets, as a gift or in memory of someone, please don't hesitate to contact me :) All I need is a selection of photographs of your chosen lovely faces and I'll quote a lovely price.
Thank you for having a look at my page!
Mia Silverwoman joined Society6 on November 23, 2014.
Mia Silverwoman's Store
17 results
Filter