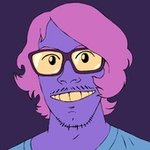 Micah Buzan
I'm Micah Buzan, a self-taught animator and musician. I like to make wacky things. I've animated music videos for bands like The Flaming Lips, Moon Duo, Samuel Seo, Jiyoon, Nick Hakim and more. My animation has been featured on Cartoon Network's Adult Swim. I post original songs, animation tutorials, and videos about creativity, mental health, and random thoughts on my YouTube channel: https://www.youtube.com/MicahBuzan OTHER PLACES TO CONNECT ONLINE: Facebook ► https://www.facebook.com/MicahBuzanMUSIC Instagram ►https://www.instagram.com/micahbuzan/ Twitter ► https://twitter.com/MIcahBuzan Blog ► http://www.micahbuzan.com/ Music ► https://micahbuzan.bandcamp.com/ Books ►https://www.amazon.com/Micah-Thomas-Buzan/e/B01L4YHBQG Micah Buzan joined Society6 on October 13, 2014
More
I'm Micah Buzan, a self-taught animator and musician.
I like to make wacky things.
I've animated music videos for bands like The Flaming Lips, Moon Duo, Samuel Seo, Jiyoon, Nick Hakim and more. My animation has been featured on Cartoon Network's Adult Swim.
I post original songs, animation tutorials, and videos about creativity, mental health, and random thoughts on my YouTube channel: https://www.youtube.com/MicahBuzan
OTHER PLACES TO CONNECT ONLINE:
Facebook ► https://www.facebook.com/MicahBuzanMUSIC Instagram ►https://www.instagram.com/micahbuzan/ Twitter ► https://twitter.com/MIcahBuzan Blog ► http://www.micahbuzan.com/
Music ► https://micahbuzan.bandcamp.com/ Books ►https://www.amazon.com/Micah-Thomas-Buzan/e/B01L4YHBQG
Micah Buzan joined Society6 on October 13, 2014.