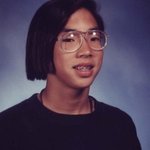 Michael C. Hsiung
My name is Michael Hsiung and I'm a freelance artist/illustrator who works and lives in Los Angeles, CA. I started out an English major and even worked as a mascot in a local restaurant for 6 months, but neither really worked out for me. I enjoy drawing and have grown accustomed to pen and paper, but have been trying to branch out by using color and some brush. I'm influenced by Dungeons & Dragons, Olaus Magnus, vikings, medieval times, sci-fi, time-travel, drinking, skateboarding, fantasy, real life, comics, grace jones. . .xanadu. . . you name it. www.michaelchsiung.com http://michaelchsiung.tumblr.com/ Twatter: @MichaelCHsiung http://vansart.tumblr.com/ Michael C. Hsiung joined Society6 on April 14, 2009
More
My name is Michael Hsiung and I'm a freelance artist/illustrator who works and lives in Los Angeles, CA. I started out an English major and even worked as a mascot in a local restaurant for 6 months, but neither really worked out for me. I enjoy drawing and have grown accustomed to pen and paper, but have been trying to branch out by using color and some brush. I'm influenced by Dungeons & Dragons, Olaus Magnus, vikings, medieval times, sci-fi, time-travel, drinking, skateboarding, fantasy, real life, comics, grace jones. . .xanadu. . . you name it.
www.michaelchsiung.com http://michaelchsiung.tumblr.com/ Twatter: @MichaelCHsiung http://vansart.tumblr.com/
Michael C. Hsiung joined Society6 on April 14, 2009.
Mugs by Michael C. Hsiung
8 result
Filter