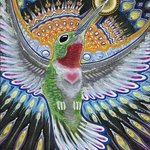 Michael Garfield
Trained as a scientific illustrator before I started painting at concerts, I've painted everywhere – from Burning Man to Red Rocks, NASA Ames to Canada to Costa Rica – at countless festivals, and at nightclub residencies in Boulder, Denver, Kansas City, Austin, Phoenix, and New Orleans.
This website features artist picks from over 350 pieces I have painted in the last nine years.
If you like what you see, be sure to check out my genre-breaking instrumental guitar music and my podcast, Future Fossils. If you have any questions, feel free to email me. Enjoy, and thanks for supporting my art!
http://patreon.com/michaelgarfield http://michaelgarfieldart.com http://michaelgarfield.blogspot.com http://facebook.com/michaelgarfieldart http://youtube.com/michaelgarfield http://twitter.com/michaelgarfield http://instagram.com/michaelgarfield
Read more