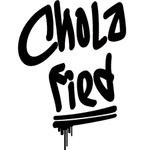 Cholafied
Cholafied comes from the mind of an LA kid who grew up in the 90's. It's a throwback to Chola gangster style: "Sharpied" eyebrows, dark lipliner, and the fumes from a can of Aqua Net. It's a product of LA where subcultures, celebrity obsession, street art, and stupidity are rolled up together like one of those bacon wrapped hot dogs sold on Hollywood Blvd. By Michael Jason Enriquez Cholafied joined Society6 on December 24, 2014
More
Cholafied comes from the mind of an LA kid who grew up in the 90's. It's a throwback to Chola gangster style: "Sharpied" eyebrows, dark lipliner, and the fumes from a can of Aqua Net. It's a product of LA where subcultures, celebrity obsession, street art, and stupidity are rolled up together like one of those bacon wrapped hot dogs sold on Hollywood Blvd.
By Michael Jason Enriquez
Cholafied joined Society6 on December 24, 2014.
Cholafied's Store
16 results
Filter