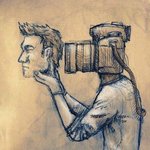 MichalSela
As a photographer, I use my camera to single out and select moments in time, or details most people walk by, never noticing. Photography is my expression of the things I love in life. Beautiful places. Wonderful moments. Things that make me laugh. MichalSela joined Society6 on January 2, 2017
More
As a photographer, I use my camera to single out and select moments in time, or details most people walk by, never noticing.
Photography is my expression of the things I love in life. Beautiful places. Wonderful moments. Things that make me laugh.
MichalSela joined Society6 on January 2, 2017.