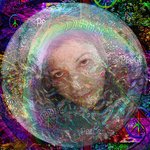 Michele Avanti
Contact me if you want me to paint your pet or pets, or totems, or something for you or as a gift for a friend. I am a fast painter, understand timelines and have worked with individuals, groups and businesses since 1975. I love nature and work in mixed media of photography, digital art and acrylics. Paintings can be created in any size you wish and with background colors to work with your decor. Prices depend on how complicated the design is and how large a size you need, but you will find I am very reasonable. Call or email to discuss your needs, 541-900-1084 or astrologyandmore@gmail.com I have been passionate about capturing the beauty of nature since I first held a crayon. I hold two fine arts degrees in Art & Photographic Illustration. Have been a graphic artist, professional photographer, and fine arts artist. Michele Avanti joined Society6 on March 30, 2015
More
Contact me if you want me to paint your pet or pets, or totems, or something for you or as a gift for a friend. I am a fast painter, understand timelines and have worked with individuals, groups and businesses since 1975. I love nature and work in mixed media of photography, digital art and acrylics.
Paintings can be created in any size you wish and with background colors to work with your decor. Prices depend on how complicated the design is and how large a size you need, but you will find I am very reasonable. Call or email to discuss your needs, 541-900-1084 or astrologyandmore@gmail.com
I have been passionate about capturing the beauty of nature since I first held a crayon. I hold two fine arts degrees in Art & Photographic Illustration. Have been a graphic artist, professional photographer, and fine arts artist.
Michele Avanti joined Society6 on March 30, 2015.